Mobility report 2016 (English)
From 2005 to 2015, travel time losses on the main road network decreased by 1 percent. The construction of additional lanes was the largest contributor to this decrease in travel time loss on the main road network during that time period. Compared to 2014, traffic volume on the main road network increased by 2 percent. In 2015, travel time loss on the main road network increased by 22 percent, with the largest share of this increased travel time loss on the main road network occurring during the evening peak hours. KiM expects travel time losses to increase by 14 percent in 2016, and by approximately 4 percent during the years 2017 to 2021. Hence, in 2021, traffic congestion will be 38 percent higher than in 2015. These are the findings of the KiM Netherlands Institute for Transport Policy Analysis' 'Mobility Report 2016'.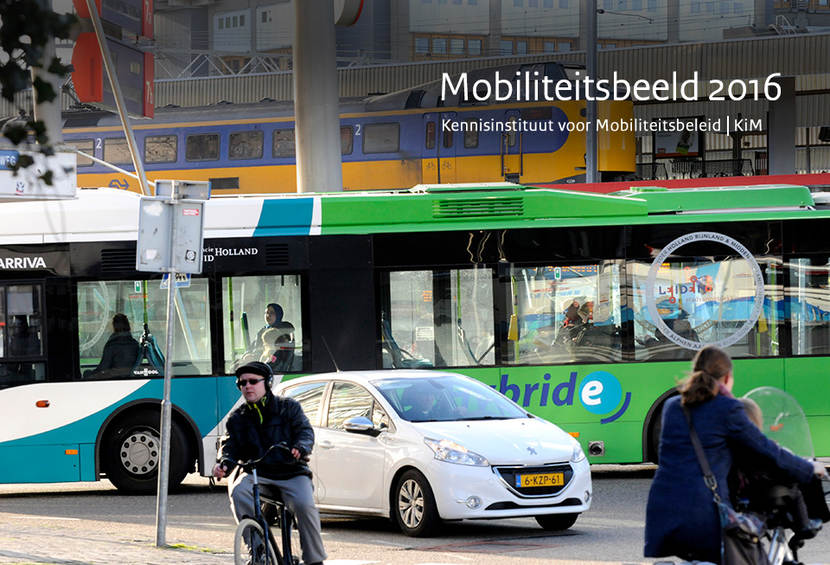 Home-to-work commuting
Home-to-work commutes to and from the main urban agglomerations of Utrecht, Rotterdam and Amsterdam increased between 2005 and 2015. This increase was primarily attributed to the residents of these agglomerations: they undertook more home-to-work commutes to locations situated outside of their own agglomeration.
Bicycle
Bicycle use has increased by nearly 11 percent since 2005. Part of this increased bicycle use is attributed to e-bikes, which, in addition to being used by senior citizens, are also increasingly used by adults under age 65.
Public transport
The number of passenger kilometres travelled by train increased from 15.2 billion in 2005 to 18.5 billion in 2015, an increase of nearly 22 percent. This amounted to an average annual growth rate of 2 percent over that time period. Owing to the availability of public transportation OV chip card data, passenger figures for the bus, tram and metro are known for the first time since 2011: approximately 5 billion passenger kilometres were travelled by bus, tram and metro in 2014 and 2015.
Air traffic
Amsterdam Airport Schiphol continued to experience growth: from 2005 to 2015, the number of passenger movements increased by 32 percent to more than 58 million. In 2021, KiM expects passenger movements at Amsterdam Airport Schiphol to have increased to 71 million, and 80 million for the entire Netherlands.
Freight transport
Freight transport in the Netherlands (in terms of both weight transported and freight tonne-kilometres) also increased, although in 2015 freight transport remained below the levels reached prior to the economic crisis. All transport modes - with the exception of inland waterway transport - experienced growth, both domestically and internationally. In terms of cargo tonne kilometres, growth in 2015 primarily occurred in the domestic transport sector. KiM expects domestic freight transport to increase by 13 percent during the years 2015-2021, and by 10 percent for international transport over the same time period.