Online symposium Netherlands Mobility Panel (MPN) on September 24th 2020
On September 24th in the afternoon, The Netherlands Institute for Transport Policy Analysis (KiM) will organize the fourth Netherlands Mobility Panel (MPN) symposium. Due to the coronavirus crisis, this year's symposium will be organized online. You are cordially invited to join.
Register
You can register using this link.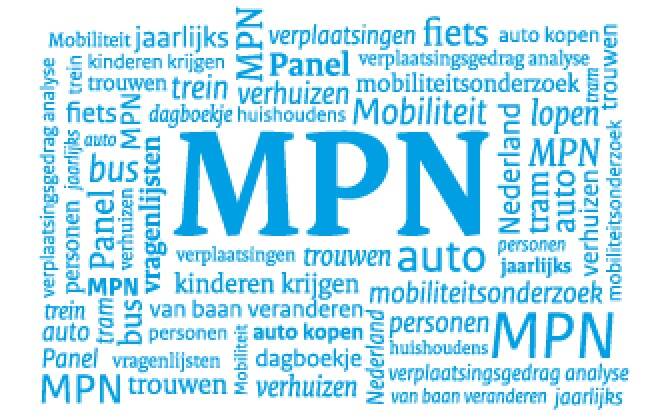 The MPN
The Netherlands Mobility Panel (MPN) is a household panel, which started in 2013. The data collected with this panel can be used to study trends in travel behavior among a fixed group of persons in households over a longer timeframe. Does your travel pattern change when you move from a city to the countryside? Why do certain people choose to walk or cycle? What is the role of health related aspects in this choice? Recently the MPN has also been used to study people's experiences with traffic jams, vacation trips abroad and the impact of the corona-crisis on mobility. On the MPN website you will find more information.
The symposium
The program of this year's symposium starts with a plenary opening session including an overview of developments in the MPN panel and a keynote by Kay Axhausen (Professor in Transport Planning, ETH Zürich). Prof. Axhausen will discuss Swiss experiences with longer duration surveys.
After this, there will be 2 rounds of thematic parallel sessions in which researchers will present their (panel)analyses. Presented research will be based on the MPN and other panels and presentations will be provided by both Dutch and non-Dutch researchers/speakers. In addition to data & methods, the presentations will discuss the implications of findings for policy and practice and potential lessons for the future. Of course, there will be room for questions and discussion.
We end the symposium with a plenary closing session, including an interactive panel discussion focusing on the future of mobility and research interests. The panel will consist of 2 scientists and 2 policymakers and the 'audience' can participate by chat.
In this way, we hope to offer a varied program. For the Dutch-speaking parts of the symposium, translation will be offered.
You can find the full program here.
Registration
After your registration, you will receive an outlook invitation, which serves as a confirmation. At a later moment you will receive further information and links for your online participation. Registration is possible until the maximum amount of participants in the online environment is reached. We will send a message when we have reached this maximum number.